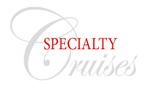 Cargo Liners, Mail and Supply Ships,
Small Vintage Cruisers ...
Passenger service on freighters is suspended currently, except on the ARANUI and Bella Desgagnés - (It is not expected to resume before most of the world population is well vaccinated against the coronavirus, hopefully later this year or next). We'll post here any news as we get..

cruises in
French Polynesia
The custom-built Aranui 5 of CPTM (Compagnie Polynesienne de Transport Maritime), a specially-designed cargo liner built with passenger comfort in mind, offers tasteful, spacious accommodations, sweeping decks, an outdoor swimming pool, a gym and facilities for ocean swimming, fishing, snorkeling and scuba diving.
The service is renowned for its friendly atmosphere, fine French and Polynesian cuisine, informative onboard lectures as well as for the raw beauty of its destination, the spectacular Marquesas islands.

More info
The Bella Desgagnés - Summer and Fall in the Gulf of Saint Lawrence
The Bella Desgagnés offers transportation and cruise for local residents and visitors, but primary purpose is to bring mail and supplies to many of Québec's picturesque villages located along the 900-km-long coast from Rimouski to Blanc-Sablon.

More info


Fall-foliage season on the coast
| | |
| --- | --- |
| These Italian "car and container carriers" take passengers on regular and frequent sailings from Northern Europe to the Mediterranean, South America and West Africa. | Grimaldi Lines |
All accommodations and common facilities, such as dining room, TV/bar lounge, a small exercise room and self service laundry are located on the Captain's Deck, one below the bridge.

The most popular 35-day Mediterranean voyage, departing weekly from Southampton, UK, calls at Savona, Civitavecchia and Salerno, Italy; Piraeus, Greece; Izmir, Turkey; Ashdod, Israel; Limassol, Cyprus; Alexandria, Egypt; Setubal, Portugal; Portbury, UK; Cork, Ireland; Esbjerg, Denmark; Wallhamn, Sweden and Antwerp, Belgium.

The fare varies from €1,683 pp for an inside upper- and lower-berth cabin to €3,366 pp for the side-facing double bedded Owner's cabin.



Port times vary according to cargo requirements; it can be a short call or a long one, during the day or the night.
Nevertheless traveling on these Italian freighters will provide you with many pleasures. You'll become a part of a team and enjoy your voyage on the high seas.

More info