Summer and Fall in the Gulf of Saint Lawrence
| | | |
| --- | --- | --- |
| Fall-foliage season on the coast | | The Bella Desgagnés offers transportation and cruise for local residents and visitors, but primary purpose is to bring mail and supplies to many of Québec's picturesque villages located along the 900-km-long coast from Rimouski to Blanc-Sablon. |
Sailings are weekly from Rimouski on Monday at 10 PM, arriving back the following Monday morning. The best way to get there from a far away place is by air to Quebec City a day earlier, then by bus to Rimouski on Monday. Port calls vary from a couple of hours to half a day. Sightseeing tours are available in some places. The fare varies from CAD 1,318 per person in a standard twin-bedded cabin in low season to CAD 2,229 per person for a Panoramic twin-bedded cabin in high season, plus 20% for tax and fees.

Please see the Schedule and Tariff for 2019 and Itinerary
| | | |
| --- | --- | --- |
| We offered this cruise back in the 1990s, while Bella's forerunner Nordik Express was still in good condition, providing an attractive service, we'd book several of our customers per month. This new ship promises to offer even better service. | | One minute video preview of the adventure |
The image on the left is of a standard twin-bedded cabin with a porthole. Superior twin-bedded cabins have larger beds and square picture windows. Top deck Select- and Select-Plus-cabin occupants get a free pass to the Fitness Room and exclusive rights to a VIP Lounge. All 63 cabins have a bathroom with private facilities. Accommodations also include a Dining Room, Cafeteria, Bistro, Wi-Fi connection ...

The 1,000-ton vessel was built in Croatia in 2013. She has an Ice Class and flies Canadian flag.

Please review the Q&A General Information
To make a reservation, please print, complete, scan or picture and email back the Registration Form (link below), indicating your preferences. When we confirm holding a cabin in your name, a deposit for 50% of the fare would be required by a bank transfer or check payable to Maris USA Ltd. in CAD/USD. The balance of the fare is due 70 days prior to departure.
South Seas - Singapore and China to Australia and NZ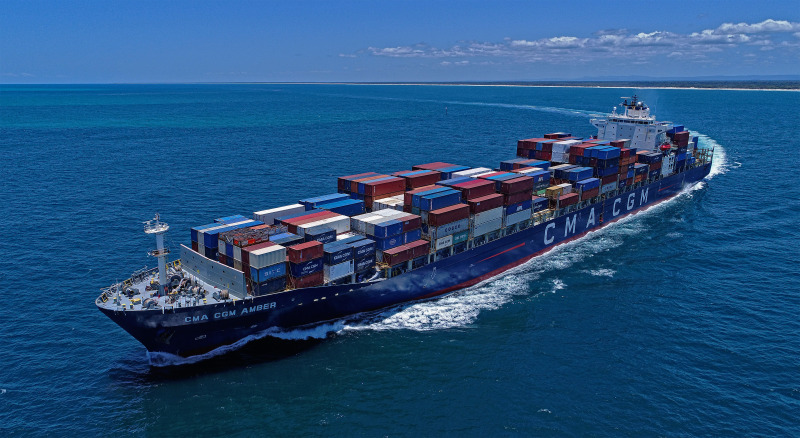 The CMA CGM Amber sailing from Brisbane on November 20, 2018
The ANZEX ANL Line sailing from Australia via New Zealand to China as follows:
Brisbane, Australia (Day 1); Auckland (5), Port Chalmers (9), Lyttelton (10), Napier (12) and Tauranga (13), all in New Zealand; Hong Kong (27), Keelung, Taiwan (29); Shanghai (30), Ningbo (32) and Shekou, China (35); Kaohsiung, Taiwan (37) and Brisbane (48).

The 50,000-ton CMA CG Amber offers a double and three single cabins at (Euro) €110-€150 per person, per day.
More Info. - CMA CGM brochure
The AAXANL Line ships connect Singapore and Malaysia with Australia, East and West Coasts, every week or two as follows:
Singapore (Day 1); Port Kelang, Malaysia (2); Fremantle (10), Sydney (17), Melbourne (20), Adelaide (23) and Fremantle, 2nd call (27), all in Australia; Jakarta, Indonesia (34) and Singapore (35).
The CMA CGM Bellini,
Mozart, Puccini & Rossini
-------
Passengers: 10
Containers: 5,782 TEU
Deadweight: 73,000 tons
Length: 277 m
Speed: 21 knots / 39 km
Built: 2004
Officers/Crew: Int'l
Owners and Operators:
CMA CGM, French
The composers offer a choice of double bed and twin-bedded cabins at (Euro) €110-€150 per person, per day.

Passenger accommodations on ships in both services are located on upper decks, and are of the same standard,

More Info. - CMA CGM brochure
Thanks to the support received from our customers, as well as from the steamship lines and media, including the following comments, today's Maris is one of the leading independent freighter cruise specialists:
"Maris is sailing with fair winds and following seas under your command."

John Carrick
Editorial writer
Sydney, Australia
Sep/99
"Q:

It has always been my dream to take a long voyage on a cargo ship. Can you tell me if this is possible any more?

- A:

Maris in New York offers such voyages on a daily basis."

Sunday Times
London
July 1/01
"Maris Freighter Cruises website, as well as the newsletter which illustrates itineraries, ships, prices etc., is a good place to learn about this type of cruise and travel."

New York Times
May 18/03
"We are very appreciative of the work you have undertaken on our behalf for many years and the effort you have put into making our passenger service a success ... Our sincere and grateful thanks."

Richard Mellor
P&O Nedlloyd
London
Jan/05
"As a faithful reader of your Seaworthy News publication, I wish to compliment you and your staff on the informativeness and thoroughness, setting forth in honest and detailed manner descriptions of this means of travel."

Martin Ems
Retired Manager Passenger Services,
American President Lines - Feb/07
"I just wanted to send you my thanks for the beautiful news publication you produce all these years. I hope you'll keep freighter travel as your primary focus always, as it sets you apart."

Alison Senter
(Member since '95)
New Lisbon, NJ
Jan/10
"Truly appreciate your resourcefulness. Thank you for your assiduousness in working through this with me."

Thomas T. McMahon
Gig Harbor, WA
Jun/12
"Since 1971, when my three young children and I travelled up the West Coast of Africa, I have had the pleasure of occasional freighter voyage. A wonderful way to see, and enjoy the peace of the watery parts of, our world. Thank you so much and your family for choosing to run your freighter cruise agency."

Jean Washington
San Diego, CA
Apr/16
Become a member of Maris Freighter Travel Club Int'l -
or give a gift membership


Take advantage of the knowledgeable advice that comes from our vast experience, starting by reviewing the recommended pages. Find the freighter and voyage that's right for you and, for each booking, you will receive a discount of up to $800, depending on the steamship line and voyage. Please see the Special Discounts page.
To subscribe simply pay the fee by credit card.

You'll also receive our online newsletter called Seaworthy News, featuring passenger firsthand stories and news, issued periodically as it happens. It's a well-illustrated e-mail publication often being the only one available anywhere for many of these voyages.



The same low price (in USD) is valid internationally.

By placing your order, you agree with our

Terms